Exclusive: Ahead of Xbox's acquisition, Activision's Bobby Kotick discussed Microsoft, Elon Musk's Neuralink, and hinted at a Guitar Hero revival in this leaked interview
Kotick and Corden (not me) discuss the future of Activision.
(Image credit: Windows Central)
What you need to know
Sources familiar with the event recently shared with us a glimpse at an internal townhall meeting between Activision CEO Bobby Kotick and Activision-Blizzard employees.
Hosted by James Corden of Gavin & Stacey fame, Kotick fielded a range of questions and offered some insights into the future of Activision.
Microsoft is planning to acquire Activision-Blizzard-King in a blockbuster 72 billion dollar deal that has faced intense regulatory scrutiny.
Both Kotick and Corden were coy about the current status of the deal, which is widely regarded to close as soon as this Friday 13, 2023, pending final UK approval.
While discussing Microsoft, Kotick lauded the firm's resources, cloud server tech, and technological research arm. He also name checked Guitar Hero, strongly hinting that the game could be on the docket for a revival.
---
Microsoft is in the process of acquiring Activision-Blizzard-King (ABK), known for games like Diablo, Candy Crush, World of Warcraft, and of course, Call of Duty.
The Xbox-ABK deal valued at 72 billion dollars would give Xbox control over some of the world's biggest and most nostalgic franchises. While facing intense regulatory scrutiny around the world, Microsoft emphasized that the deal is designed around competing with Apple and Google on mobile devices, whose store platforms enjoy a near-total global duopoly over mobile gaming payments and distribution.
The Xbox-Activision deal is expected to close as soon as this Friday 13, 2023, pending UK regulatory approval. The UK has already offered provisional approval but has yet to fully finalize it formally.
To that end, Activision CEO Bobby Kotick called an all-hands meeting with Activision-Blizzard-King staff today, hosted by none other than James Corden (no relation, I think) of Gavin & Stacey fame. During the meeting, Kotick reminisced about Activision's journey from independent, to being under Vivendi, and then to becoming a publicly traded company. Kotick also discussed future tech, namechecked Guitar Hero, and hinted about what the future of ABK's partnership with Microsoft may look like.
Future gaming trends, ABK culture, and
James Corden asked how Kotick and ABK leadership will retain its culture, which Kotick repeatedly described as "magic" and "special" during the discussion. Kotick emphasized his belief that Microsoft wants to acquire the company for that "magic," represented in the 15,000+ staff within Activision, predicting that Microsoft will seek to maintain it moving forward.
"I think a lot [Activision's] motivation is that we have these enormous communities of players of 400 million people in 190 countries around the world who are engaged every single day," Kotick continued, "I think people [at Activision] feel this incredible sense of responsibility to deliver for their players. And so I think that's that recognition, and that appreciation, that the focus will be rewarded in the joy of hundreds of millions of people."
Changing gears a bit, Kotick was asked to look ahead to the future of gaming, and what it could mean for Activision and Microsoft as the firms team up. Kotick discussed machine learning and AI, but also emphasized the need to hire more writers, more actors, to meet the growing expectations of gamers. He also surprisingly namechecked Elon Musk's brain interfacing Neuralink as a potential way for interacting with video games, which he described as a "more visceral" medium than movies and other entertainment media.
"If you look at the new technologies that are on the horizon, we're going to be able to do things that we've never done before with AI and machine learning. The quality of graphics are now elevated to a place where we're going to need more writing talent and more acting talent — because we won't be able to actually fulfill the expectations of our players." Kotick continued, "Games are always very different than film and television. In film and television, you are successful by creating a connection that's emotional between you and the audience — our experiences are more visceral, but it's changing. We have characters on the screen and video games who with mouth movements and facial animation that is realistic — you're going to have a new dimension of emotional connection that we've not yet mastered."
Future tech, machine learning, and Guitar Hero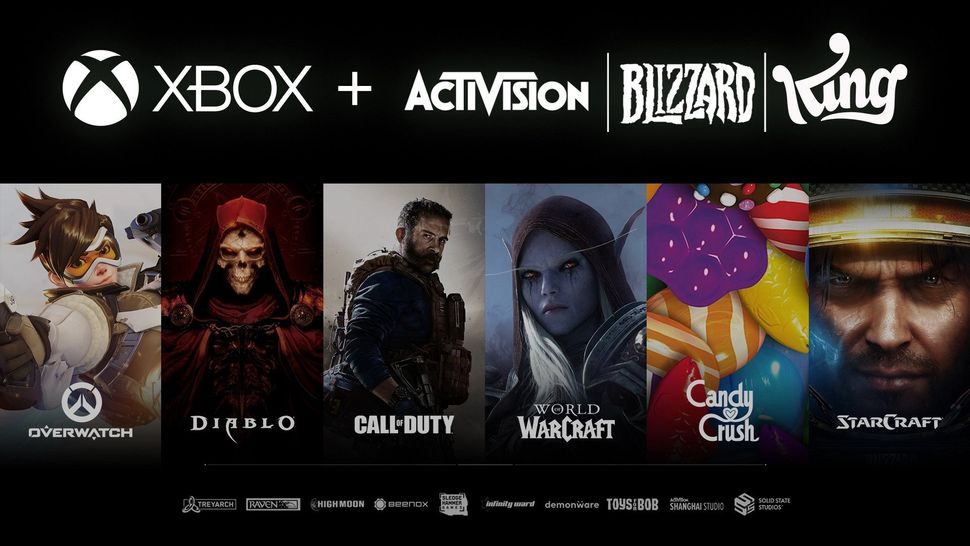 Kotick also discussed technological innovations, mentioning how mobile devices took gaming from a fairly expensive middle-class pursuit in developed nations in the early days, to a global phenomenon. Xbox lead Phil Spencer often talks about Microsoft's goal to reach all of the world's "2 billion" gamers, and mobile devices will naturally form part of that strategy. However, Kotick was also interested in discussing future tech, such as Elon Musk's Neuralink, as well as VR.
"I talked a little earlier about the physical experience of interacting with something on screen. I think you'll see things like Neuralink — you'll actually be able to interact with things on the screen, where there isn't a controller." Kotick continued that it might be a Neuralink, but also an earpiece, headset, or "some other type of sensor." Kotick began discussing how Microsoft Research could aid with this pursuit, while heavily hinting at Guitar Hero.
"A big part of what I've seen in Microsoft is research. And they do development in areas that are extraordinary. And so being able to tap into their AI and machine learning capability, the data analytics, new ways of thinking about graphics — I just see unlimited potential for what we do," Kotick explained. "We're uniquely situated as a company because we have the very best franchises in all of video games."
Kotick looked ahead to the "next 10 years of gaming," reminiscing about transformative titles from Activision's back catalog like Pitfall, River Raids, and Kaboom! of decades past. Kotick also namechecked Guitar Hero, hinting that it's currently on the path to a revival: "The re-emergence of Guitar Hero and other things would not be possible without the different types of resources. And so, you know, just the endless possibilities for the future that are just incredibly exciting."
Kotick signed off by presumably referencing machine learning graphics technologies like DLSS that enable lower-power devices to access more immersive visuals, typically associated with higher-end gaming PCs and more expensive gaming laptops. "The accessibility that's going to come from less and less expensive processing that will be more widely available, and inexpensively available, is going to just create more and more opportunities for the amazingly talented people that we have here."
A done deal?
Microsoft and Activision are a natural fit essentially, with similar goals when it comes to online-based, community-oriented service games, but ABK also shores up some of Xbox's biggest shortcomings. Microsoft's top competitors enjoy decades of nostalgic globally recognized franchises dating all the way back to the 80s. Microsoft was relatively late to the console game, and has suffered because of it to some degree, among other well-documented (and often self-inflicted) reasons.
Activision has also had many of its own difficulties in recent years, as it seeks to maintain its leadership position with games like Call of Duty, despite intense competition in the space. Shifting user behavior, and the rise of new markets and mobile gaming giants have given Activision a range of challenges — and many of these are challenges Microsoft will now inherit. Still, there are far more reasons to be excited for the future, in my view.
Thanks to Xbox Game Pass, Microsoft is creating one of the most high-value subscription services on the planet, as the battle for attention rages between streaming services, social media, and traditional gaming. Microsoft also seeks to crack open Apple and Google's duopoly on mobile platforms, which could see a wave of innovation flood the space, in much the same way Steam fostered on PC. New technologies that Microsoft finds itself embedded in, like AI, will also have some as-of-yet undefined role to play here too.
For Activision and Xbox gamers, though, the status quo isn't enough. Fans want to see franchises like StarCraft and Guitar Hero revived, and games like Call of Duty and World of Warcraft improved — while also demanding a more steady cadence of high-quality content from Xbox itself. Expectations are high, and competition for time and money has never been fiercer. The opportunities are real, but the challenges on the horizon, are also very real too.
Get the Windows Central Newsletter
All the latest news, reviews, and guides for Windows and Xbox diehards.
Jez Corden a Managing Editor at Windows Central, focusing primarily on all things Xbox and gaming. Jez is known for breaking exclusive news and analysis as relates to the Microsoft ecosystem while being powered by caffeine. Follow on Twitter @JezCorden and listen to his Xbox Two podcast, all about, you guessed it, Xbox!